Your boiler is one of the most important things you own, as it provides you and your family with heat and hot water. Without it, home isn't quite as sweet and comfortable! However, while your boiler is valuable, it's probably not something you enjoy spending money on - particularly not in terms of having a completely new home installed.
That said, installing a new boiler can be a much wiser decision than continually paying out to repair your old one. Below we've written about the main benefits of installing a new boiler to help you decide if it's the right thing for you.
At Chalmers Gas & Heating we've been installing boilers in and around the Glasgow area for a long time. So if you'd like any more information about our service then feel free to contact us on 0141 374 0274 or 07580 020343.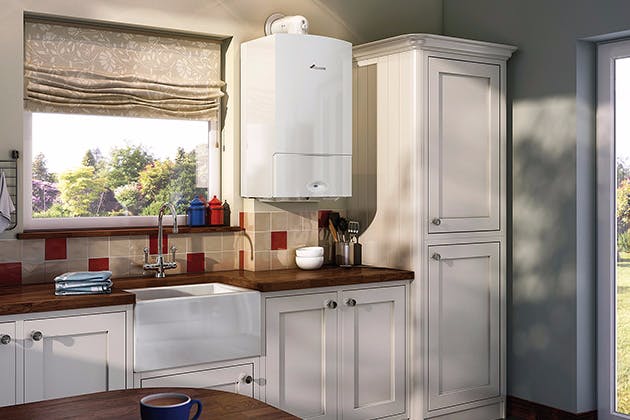 What are the signs you might need a new boiler?
- You're regularly having to get it repaired
- It's nearing 10 years old or more
- It's leaking water
- It's making loud noises, intermittently or constantly
- It doesn't always fully heat your water
- It doesn't always fully heat your rooms
If you notice any of these signs, always get them investigated by a Gas Safe registered engineer in the first instance. They can advise you of the reason your boiler is misbehaving and the next steps to take. Sometimes your boiler will be back to full performance after a small repair, other times it will be more complicated and you may be advised to consider replacing it.
What are the benefits of installing a new boiler?
Although having a new boiler installed is a big financial investment, it can actually wind up saving you money! This is because:
- You'll no longer need to pay out on repairing your old boiler
- Your new boiler will be much more energy-efficient than your old one, thus saving you money on your heating bills
- Many new boilers come with a warranty, so if something does go wrong you can rest assured you'll be covered on cost
And that's not all when it comes to the benefits of having a new boiler installed.
In recent years there have been a lot of advances in boiler technology and the choice on the market is huge. When you decide to have a new boiler installed you can choose the right type for your home, for example, combi, system or conventional. You'll also be able to select the size or output depending on how your family will use it, and there are more brand choices and price ranges.
Last but not least, the main benefit of having a new boiler installed is that it ensures your home isn't cold and uncomfortable. You and your family need heat and hot water, especially in the winter months. Not having this can affect your health, particularly of those who are very old or very young.
The pros of working with certified professionals
Your boiler is a crucial part of your house, so you should ensure that it's in excellent operating condition. Our boiler and heating engineers are well-trained in gas appliances, gas fittings, gas pipes, boiler repairs, and new boiler installations. When installing a new boiler or having your current boiler serviced, it's always a good idea to choose a Gas Safe registered engineer.
They can complete the work with a minimum risk of accidents.
They can provide the most cost-effective solutions to your problems.
Gas engineers will give you the best advice and tips to keep your boiler working properly in the long term.
Luckily, we have plenty of qualified gas engineers who can help you with this. Whether you need to install a new boiler or repair your existing one, our gas-safe registered engineers can get the job done.
If you live near Clydebank, Paisley, Glasgow, or Cumbernauld and are not sure how to find a qualified gas-safe licensed engineer, don't worry. We've got you covered. Just give us a call at 01413740274 or email us at info@chalmergas.com and our engineers will be with you in no time.
How Often Should you have your boiler checked?
There's a strong probability that your home boiler isn't utilized all year round, depending on where you live. Because of this, your boiler may remain idle for several months before you start using it. Hence it becomes gradually unreliable. To maintain your boiler as much as possible, it is strongly advised to get your boiler serviced once a year or when it is in most use.
What happens during a boiler installation
After 10 to 15 years of continuous use, it is wise to install a new boiler in your home rather than repair it. Replacing your old boiler may seem like a big expense, but it comes with its benefits. Below are some general steps taken during a boiler installation or repair.
Our licensed heating engineer will walk you through the procedure before the work starts.
Engineers may occasionally do a power cleanse during an installation, particularly if the property's system is old. This will clean the central heating system to get rid of rust, or debris that accumulates over time, leaving you with a more efficient system in the end.
After the boiler has been installed, our engineer will test it to make sure it is functional and leak-free.
Looking for boiler installation advice in Glasgow?
The friendly team at Chalmers Gas & Heating serve the entire areas of Glasgow, Clydebank, Cumbernauld and Paisley. So if you're a homeowner or landlord in one of these areas we'd welcome your call.
To find out more about our boiler installation service or to arrange a quote, you can: Call us on 0141 374 0274 or 07580 020343. Or, you can email us at info@chalmersgas.com.